Complete EMR Software Solution.
AcuVine is the only all-in-one EMR software backed by the American Acupuncture Council.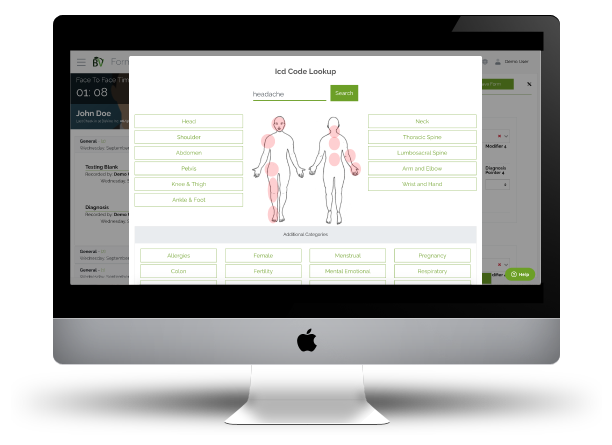 Software Features
Simple 3-step billing creation and submission process
Track and manage your claims through every step
Automatic linking of insurance payout to the patient
Diagnosis form claim linking
Procedure codes, units, charges & modifiers pre-populated
Claims linked to causes created during examination
Know when & how you will be paid
No 3rd party software needed
No hidden claim form fees
Starting at $79.99 for American Acupuncture Council Members
AcuVine New Features and Updates
The AcuVine team has been hard at work adding new forms provided by American Acupuncture Council as well as building out new features and enhancements for our customers.
We've added more forms included with the software specifically around customer engagement prior to their appointment.
Forms added to the system:
Acupuncture Informed Consent To Treat
Arbitration Agreement – Fed
Arbitration Agreement – California
COVID-19 Informed Consent To Treat
Case History
Pain Scales
Personal Injury Questionnaire
All forms can be sent via text message and email to your patients PRIOR to their visit. They have the ability to fill them out on any device with an internet connection and browser. Once forms are completed they automatically save to their patient profile where you can access them.
Features & Enhancements
Ability to send forms prior to appointment
Insurance eligibility expansion (service specific deductibles, service specific out of pocket, secondary payers ie. Aflac / Medicare) **When provided by payer
Instant indication on dashboard to view active insurance for todays patients
Quickly view Insurance eligibility from check-in screen
Quick and easy copy of notes from previous visits to current visit streamlining the note taking process
Helper text throughout application for better customer usability
If you are not currently a customer and interested in learning more, click the button below to schedule a demo at your convenience. If you have any questions or need support, feel free to reach out to our support team at support@bisvine.com.
Additional Features
Insurance
Verify your patients insurance coverage within seconds and submit a claim all in one place. Correct any denied claims on the spot so you can get paid faster and resubmit instantly. Track your claims from submission all the way to their payout and know exactly when you will be paid.
Industry Specific Forms & Notes
AcuVine has partnered and worked extensively with American Acupuncture Council to design and build forms to help prevent audits. American Acupuncture Council focuses on compliance so you don't have to. Our forms are fully customizable and built with your specific industry in mind.
Scheduling
Schedule your patients to manage your day-to-day hours and availability. Seperate them by appointment type to easily see your day at a glance. Manage multiple patients with multiple employees and block out time as needed.
Employee and Patient Management
Manage your employees and their roles within your practice. Allow access to specific areas based on employee role within the business admin. Patient management for notes, files, claims, inventory, scheduling & more all easily accessed in one place.
Cloud-based & Fully Secure
HIPAA certified software built with privacy in mind. Create and manage roles in your practice so your patients private information is only accessed by certified professionals. Utilize the ability to upload private patient information to the patiens treatment profile for easy secure access.
Point of Sale & Inventory Management
Collect payment, manage invoices, track sales and inventory of all your products. Accept all types of payments electronic or cash and manage your income and any refunds within the system.
ICD10 Code Look-up
Search for all ICD10 codes based off body part or diagnosis. Quickly add to your diagnosis exam forms for easy submission for insurance claims. All ICD-10 codes are the latest and will notify you if they are being changed.
Access From Any Device
Desktop, tablet or mobile. Any device with a browser and an internet connection can access AcuVine. Check your schedule, look up patients and manage your empoyees on any device. No need to download an app or pay extra fees.
24/7 Customer Support
Submit a support ticket 24/7 inside the application. Our customer support team will respond within 1 business day or sooner to help with whatever issues you may be experiencing. How-to-videos are also available on our YouTube channel for support.